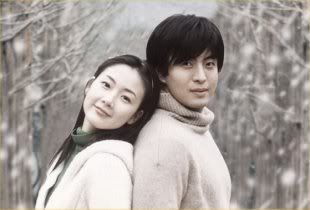 I was playing around on my computer.. having high hopes I Can re-organize my scattered files.. when I saw that picture..
And I wished to share the memory with you on my space..
That was from my all time favorite foreign series "Winter sonata"..
The above was "Yu Jin" along with "Jo sok" :D ..
*Pretty amazing the Korean names !!* But lovely as well..
The one thing I adore most about that series, is not the love story itself *though it is breath taking* but the Korean attitude in receiving life..
Pretty mmm.. pretty thoughtful ..
20 episodes *no matter how long* weren't enough for me to know much about the Koreans.. but yet, to know I wana live there someday..
Time to go... 73's